What is cloud.indigo.design for?
Indigo Studio basics
Overview
cloud.indigo.design is the place where we host your designs and where you can manage what you've shared.
(a-1) Test usability
Usability studies are a great tool to improve your validation process. Find out how well your design meets users' expectations. See how people use your prototypes and identify problem areas in your flows.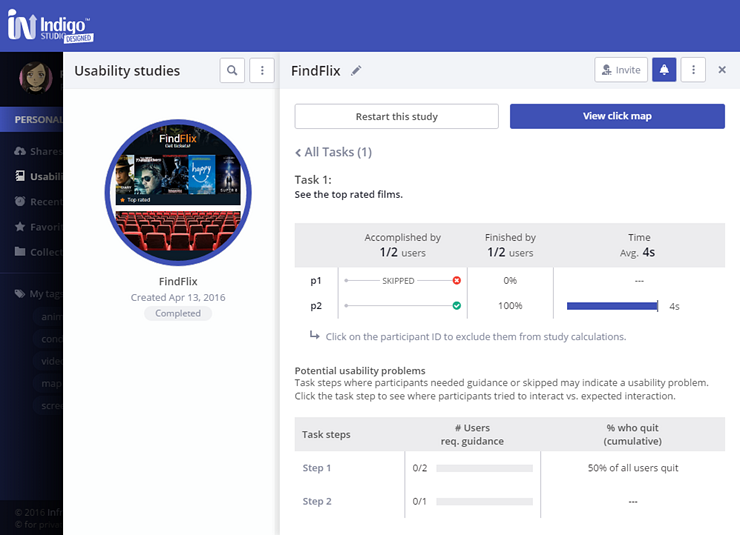 Usability studies on cloud.indigo.design are remote and unmoderated. Participants can perform them at their convenience and no moderator needs to be present.
After you set up usability studies, you can access them from the navigation menu on the left. Results are updated as participants complete the tasks. The study report consists of the study results overview, a detailed task report, and a click-map view. You can also get a video recording of participants' sessions.
Study report
The study results overview provides a high-level summary of how many users participated and completed the task successfully. It shows average time required to complete the task and whether participants asked for guidance. If the participant used guidance, the task is automatically marked as failed.
The task details report provides a more granular view of how participants completed a particular task. You can see how many participants completed, skipped, or failed the task. You can access the video recording for the task, if it's available. The task details view also shows a step-by-step view of the task. If most users quit or requested guidance at a particular step, you know that's the part of the flow you need to redesign first. Participants have the option to leave comments while they complete the task or at the end of it. When they do, you'll see a comment count next to the step.
The click map shows where the participants clicked on the UI. It captures both attempted interactions and successful ones. Successful interactions are those that lead to the next step in the recorded task flow. The click map only shows a maximum of 2 attempts per participants to make the visualization actionable.
(a-2) Exchange ideas
Prototypes you share on cloud.indigo.design have support for real-time commenting. Commenting is only supported for private shares, not for community shares.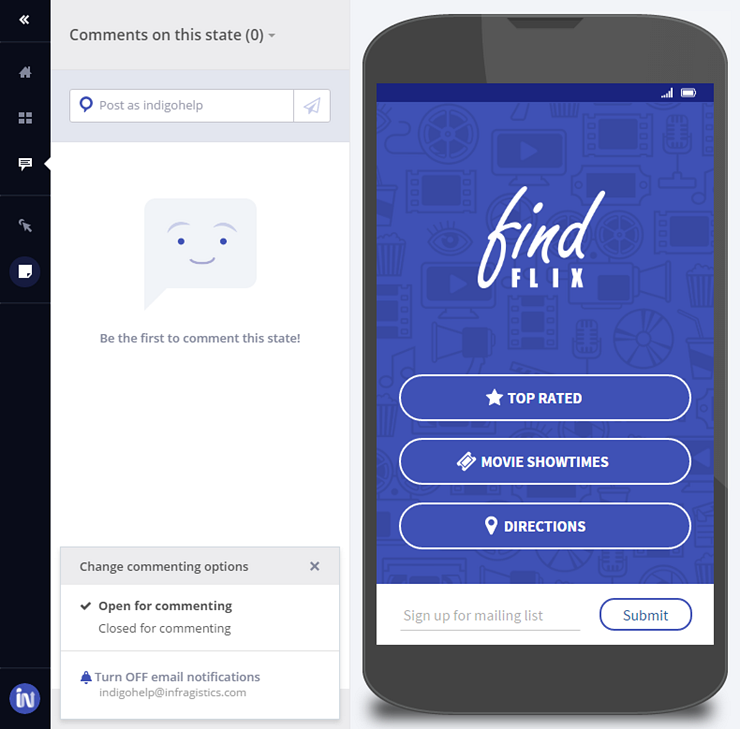 Anyone you share the prototype link with can use the commenting panel in the prototype viewer and also subscribe to receive email notifications when new comments are added to the share.
To enable comments for your share you can use the settings section in the commenting panel of the prototype viewer toolbar, or the review and commenting options in the detail panel of your share.
You can add markers to your comments to visually connect a comment with the UI. Click on the marker and then click on the area where you want to place it over the design. Then, add your comment.
Commenting options
| Goal | Action |
| --- | --- |
| Allow reviewers to add new comments | Set the share to open for commenting |
| Stop reviewers from adding new comments | Set the share to closed for commenting |
| Hide a comment from reviewers | Archive comment |
| Get or stop receiving email notifications | Turn notifications on/off |
(a-3) Organize and curate
A collection is an ordered list of shares, like an Indigo shares playlist. And you only need one link to share a collection with your reviewers!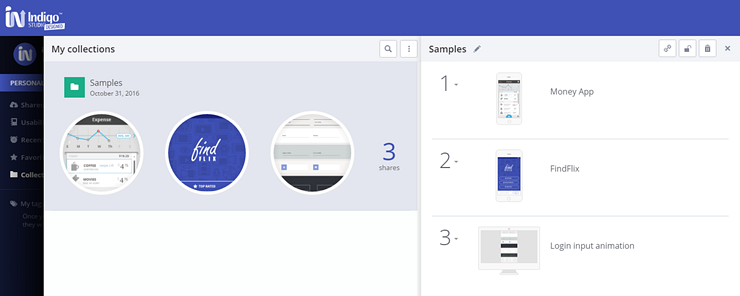 To create a collection, select one or more shares and use the Add to collection option.
You can also add shares to an existing collection and reorder the shares in a collection after you've created it.
Collections, like individual shares, can be password-protected.
Deleting a collection does not affect the shares in it.
(a-4) Collaborate with others
Create group workspaces to work with your teammates on the same shares. Members can publish and replace any design in the workspace.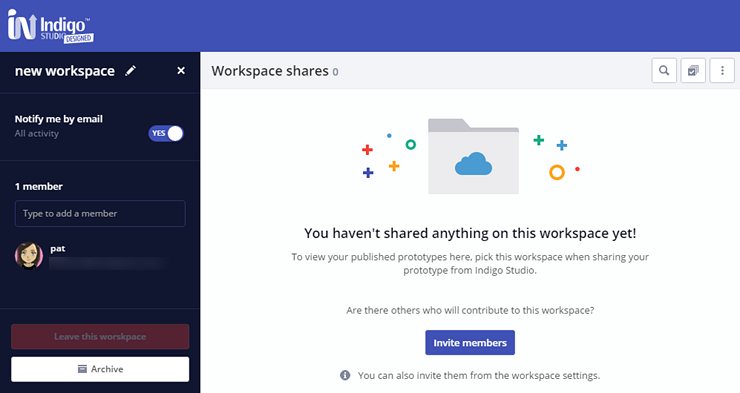 You can create a group workspace when you're sharing designs from Indigo Studio, or from cloud.indigo.design.
Learn more about this in Collaborating with Group Workspaces.
(a-5) Manage
The detail panel for your share is where you can find all the options to edit its details, get a sharable link, review analytics for views and downloads, and more.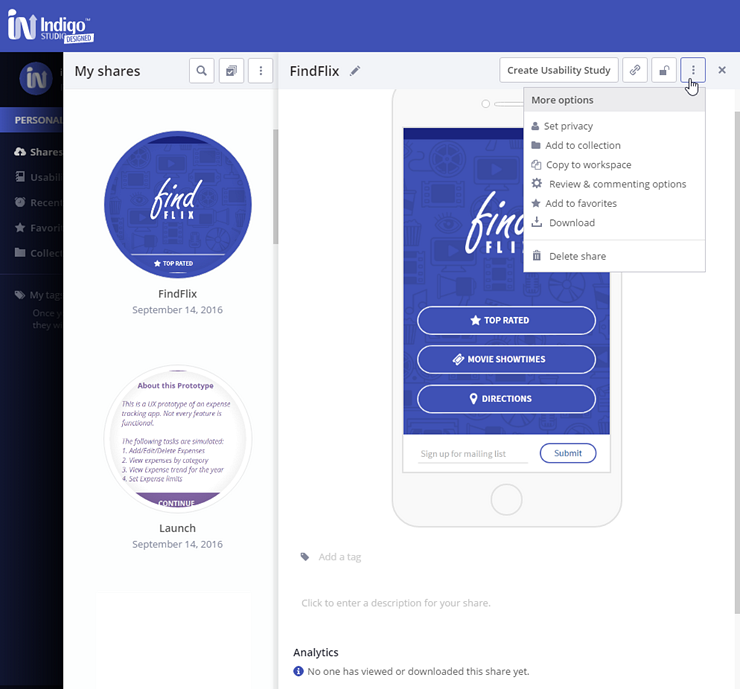 View and edit your share's details
Edit its name and description
Add tags
Mark it as private/community
Edit the prototype viewer options for it
Turn commenting on/off
Add a password
Get a shareable link
Check out views and downloads statistics
Perform actions on your share
Add it to your favorites list
Add it to a collection
Copy it to personal or group workspace
Download Indigo Studio files for it
Create a usability study
Delete it
(a-6) Explore
Review samples created by our team, as well as many prototypes and screenpart libraries published by our users.